Yami no Yume
Player Improvements
During testing it became apparent that some folk were confused by the character creation page. That led to the beginning of a week overhauling the UI on this page and completely rewriting the player cache mechanism.
The changes to UI are self-explanatory and hopefully intuitive. Most relate to using the controller, since pressing the wrong button could lead to players wearing the wrong clothes (or none whatsoever) and then starting the game in this embarrassing condition. There will probably be some further updates here in weeks to come.

The player cache changes won't be so obvious to most players but the rewrite allows each player to have their own view of every other player (before, every player saw the player 1 view) and players can now be cached with expressions or for UI purposes (the manage menu).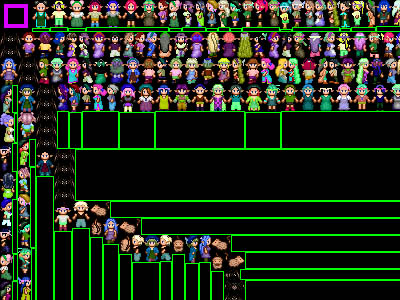 There are bound to be further tweaks here - for example it makes no sense to cache an image for every Sofone when they all look the same.

Graphics Update Continues
I haven't forgotten. There are 5000 images to work through and I'm perhaps half-way. Here's an updated view of the shore-line with the new graphics.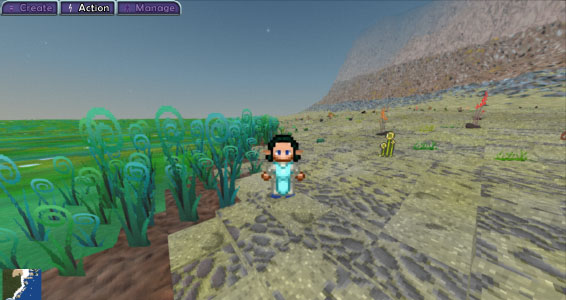 Other News
Took a few days this week to sort out the licenses and credits and make sure everything is up to date. It always feels like an annoyance to have to do this but it's super important. Even though every resource in infinite dreams is heavily modified from the original (with the exception of music, which is just converted to .ogg), we have to remember all the hard work the original authors put into making resources and their generosity in sharing it with the world.

The vast majority of original work was CC0, since one of the basic ideas behind the infinite dreams series was to see just how far we could take a game using only freely available resources. Of course, there have had to be exceptions - there's some MIT and CC3 license work in there too as well as original works by our artists. The credits in the download should now correctly reflect all this.